Something I've been wanting to do ever since I converted my old Mitsubishi Tredia to run on batteries (link) back in 2007 is finally happening! I'm going to convert another car to run on electricity – but this time it's different. It's a 1982 Lada Niva from the Soviet Union!
After my first electric vehicle conversion I'd planned on converting another car to electricity when I moved to Slovakia to live for almost eight years. Unfortunately, the bureaucracy and bounty of restrictive laws there made it technically impossible, so it wasn't until I moved to the USA in 2019 to be with my new wife that my dormant dream was able to come out of hibernation; buoyed by the fact that anything's possible in America!
In 2020, after gaining US residency and finding work, I started saving for what would be my 'donor car' to convert to electricity. For my very first conversion I simply used whatever car I could find and it was pretty boring to say the least. So, for my next conversion I needed a car that would be fun and would turn heads all by itself. I asked the internet for suggestions and dozens of people offered all manner of cars to convert, from utterly boring 1994 Toyota hatchbacks (why?) to prohibitively expensive 1969 Corvette Stingrays (how?) but in the end I went my gut, and chose something a little more 'out there': a Soviet-built Lada Niva.
The problem was going to be finding one. Even though more than 2,500,000 Lada Niva off-roaders have been produced from 1977 until today, and even though they've been a worldwide hit and a sales success, they were never sold in the United States of America due to trade sanctions. This presented me with the enormous problem of finding one – and finding one without rust.
I scoured the online classifieds in Europe and contacted shipping companies but the difficulties, costs and bureaucratic requirements of in importing a vehicle to the USA made it very unpalatable. The largest problem was that any car I found would need to be at least 25 years old to avoid meeting emission and crash safety requirements. This meant I needed to find a really, really old Lada Niva which hadn't yet fallen apart due to rust. They were almost impossible to find in Europe, or incredibly expensive if I did find one. Despondent, I looked into importing directly from Russia and reached out to shipping companies in the USA, Europe and even Russia directly, but only one company I spoke to was even considering helping me, and they warned me it would cost around $5000 in shipping & taxes alone.  So, after many months of getting ignored or discouraged at every turn I very nearly gave up on converting a Lada Niva. Until in mid-2020 I saw this: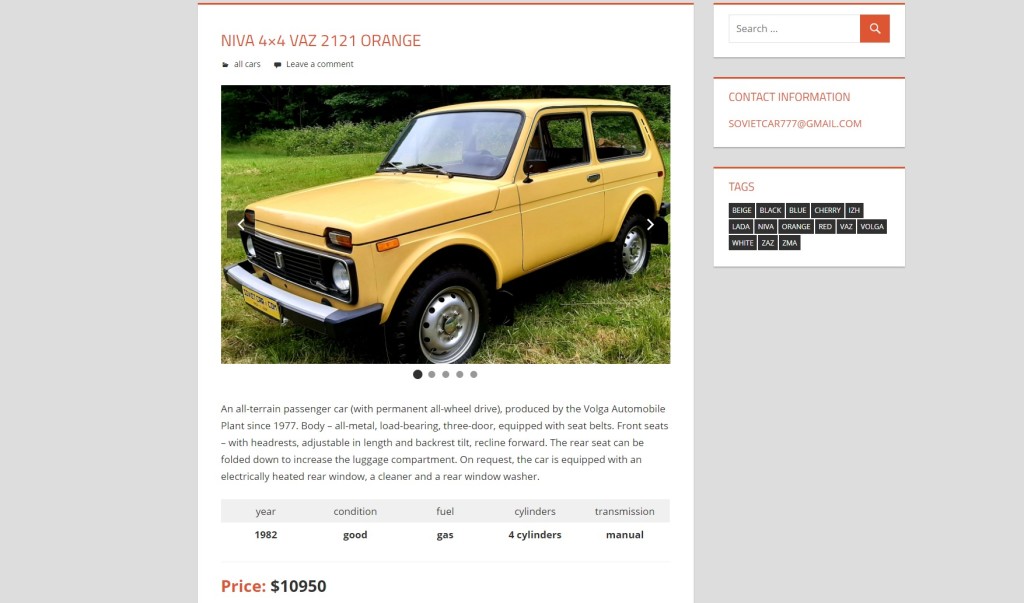 Someone was selling a Lada Niva 4×4 in Seattle, Washington! Not only that, but it was in very good condition. The problem was the price.  At $10,995 it was well out of my budget. I contacted the seller, who was also the importer, and asked if there was any flexibility but he was firm on the price. So all I could do was save every cent and check back on the car every week or two.
Fortunately, a book I published back in early 2020 had been selling well and this allowed me to save up more than $7000 in royalties. I'd also like to take this moment to sincerely thank every single one of you who bought a copy. I priced the book as low as Amazon would allow, and many of you invested your hard-earned money into it. If you're curious about it, here's a link:
If your ad-blocker is preventing you from seeing the book, click here to see if it's your kind of thing. And if you do decide to buy a copy, you're directly helping me convert this car because every single cent goes to my EV conversion savings account which I'm not touching until I have enough for electric car parts!
After help from months of book sales and living like a monk, I was eventually able to save up $11,000 plus the extra money needed to fly from St. Augustine, Florida to Seattle, Washington; about as far as you can possibly travel within the contiguous United States. My plan, providing the car was indeed in good condition, was to buy this 1982 Soviet off-road vehicle and drive it 3,700 miles home (5954 km).
So, I packed a bag, bought airfares and on an early morning I called for an Uber to take me to the airport…
To watch the adventure begin, click on the video below!
Immediately afterwards, I arranged insurance for the car then began an epic road-trip across the entire country, from Seattle, Washington, all the way down to San Diego, California, and then across the St. Augustine in Florida.
It was an incredible adventure with joys and sorrows, so be sure to watch it by clicking 'play' below:
Right now, I'm still slowly saving to convert the car to run on batteries, so you'll have to be patient. In the meantime, I've been driving it around St. Augustine, Florida and taking it up the beach.
It's a real head turner and I'm regularly asked "What is that thing?" as it was never sold in the United States. The only negatives are unreliability (you never know for sure if it's going to start each time) and terrible performance from its 1600cc engine. The vehicle struggles to keep up with even regular traffic.
But, all that will change when it's finally running on electricity. So, stay tuned!